by trumeta | August 2, 2023
10 Best Gut Health Recipes (2023)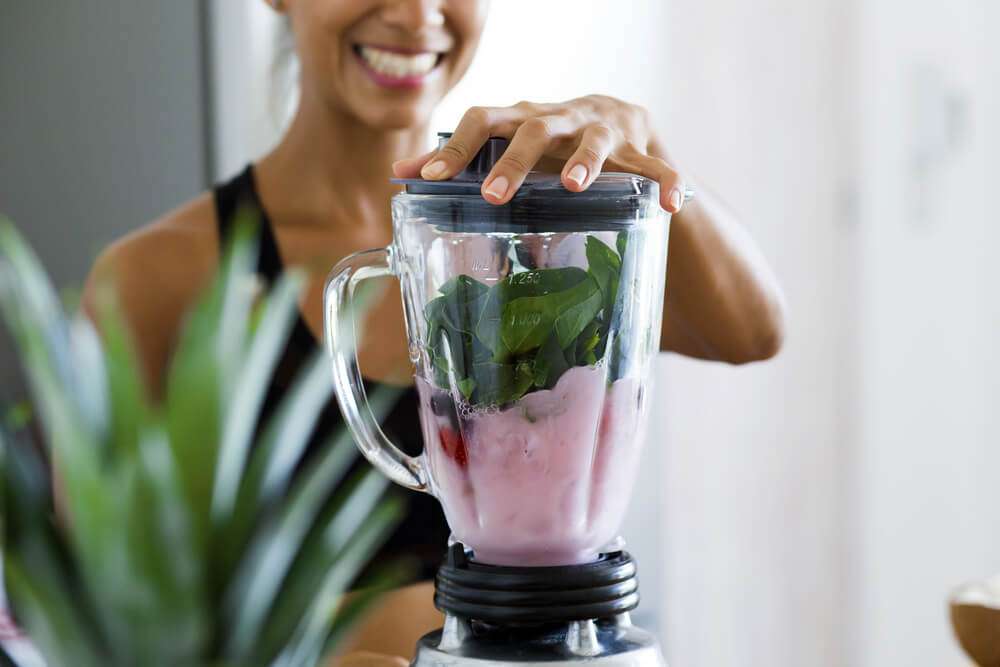 Have you been on the hunt for yummy gut health recipes that will keep your tummy happy and healthy? If this sounds like you, make sure you stay with me till the very end. Picture this: your gut is home to a bustling community of friendly bacteria, viruses, fungi (yeasts), and protozoa, all playfully referred to as the microbiota. This isn't just any community, it's your very own gut microbiome, and believe me, it's central to your overall wellness. Hence, it's super important to treat these good bacteria like your best friends and make sure the not-so-friendly ones know their place.
Your trusty microbiota team are not just pretty faces, they're hard workers too. They're whipping up vitamins, cooking up brain chemicals, and helping regulate hormones, energy, digestion, mood, and pain. What's more, your gut is like the capital city of your immune system – about 70% of it lives there! This just goes to show that what we eat can literally make or break our immune system, mental clarity, vitality, weight management, and overall life perspective.
Therefore, if you've been experiencing signs such as abnormal sugar cravings and sudden food allergies, then you could be dealing with an unhealthy gut. The bad bacteria in your gut can be very manipulative because they can influence you to crave unhealthy foods to boost your survival.
And then there's the unexpected weight gain. Some gut bacteria can be rather dramatic, causing inflammation and throwing a spanner in your metabolic energy works, which can impact your weight. But fear not, we have a solution! Stick around to discover yummy fermented food recipes for gut health that will transform your life.
How Are Prebiotics, Probiotics, and Postbiotics Different?
Now, you might be thinking, "Okay, I get it. I've got bacteria in my tummy. But what exactly are they?" Let's dive a little deeper. The lovely bacteria in your gut, the ones that boost your immune system and help make digestion a breeze, they're called probiotic bacteria. To keep these good bacteria thriving, you need to feed them with certain tasty foods and nutrients. Foods filled to the brim with probiotics are goodies like yogurt and fermented treats like pickles and sauerkraut.
Next up on our list, we have the foods that act like a buffet for your good gut microbes, particularly high-fiber treats such as whole grains, veggies, and fruits. These are known as prebiotic compounds. Think of them as room service for your good bacteria. Once your gut microbes are well-fed and satisfied, they produce what we can consider their 'waste products,' which are really beneficial chemicals for your body, known as postbiotic compounds. I hope this quick chat helped you understand the differences between these three friendly terms.
What Foods Will Help Me Have a Healthier Gut?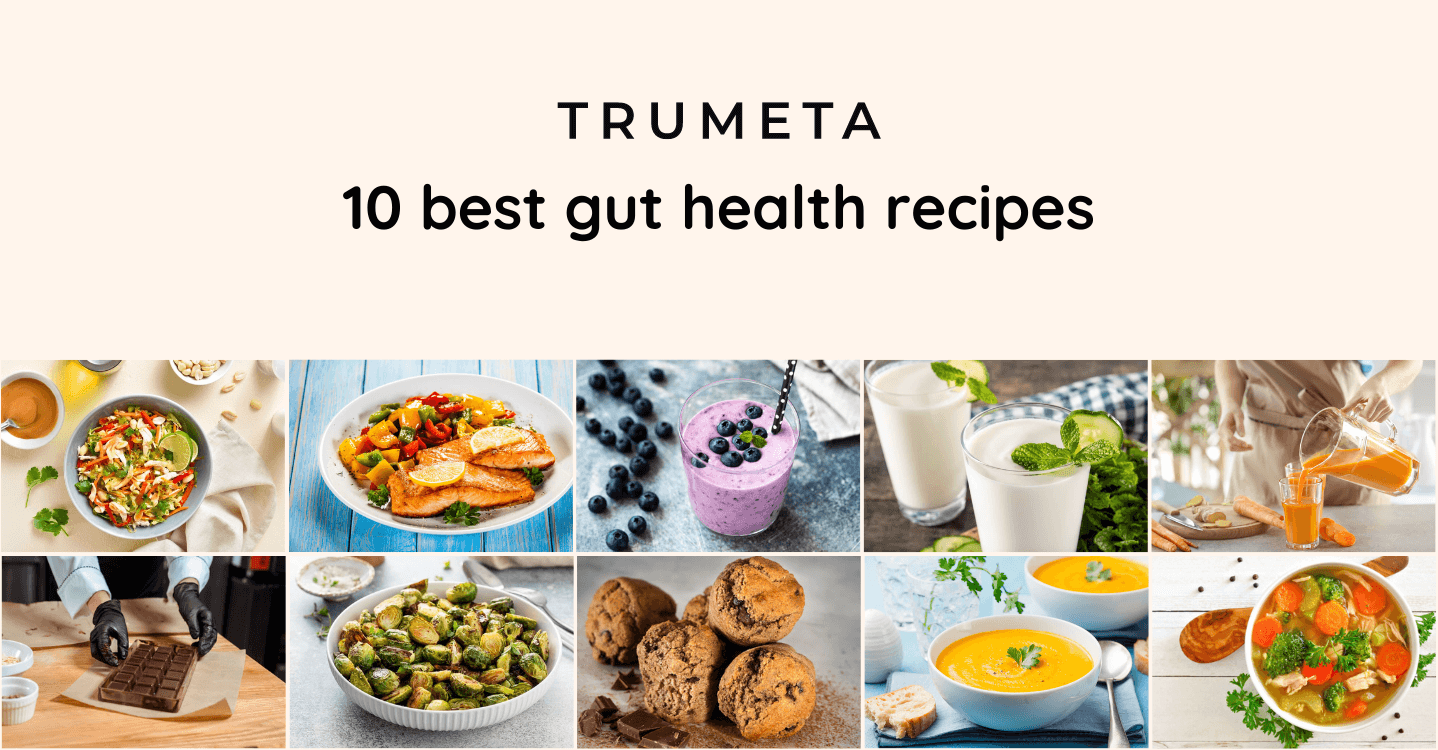 According to research, these are some of the best foods to take if you're working on your gut health nutrition. They include:
Fermented Foods
Taking fermented foods can benefit your gut because they're rich in lactobacillus bacterium. They include:
Yogurt
Tempeh
Kefir
Kimchi
Legumes, Fruits, and Vegetables
Some high-fiber foods that will activate your gut health include:
Broccoli
Apples
Beans
Raspberries
You will come across some of these foods in the gut health recipes below. Eating them will help you promote a healthier gut in the long run.
Recipes for Gut Health
1. Mexican Slaw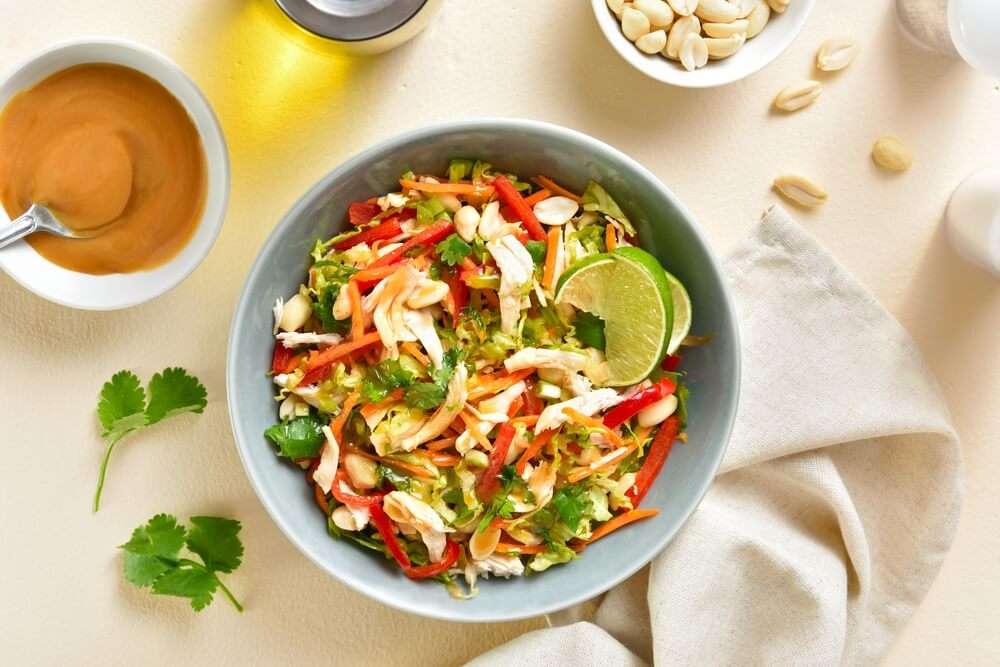 The Mexican slaw dish is one of the best gut health recipes anyone could have. The best thing about this mayo-free recipe is that it is not hard to make.
Main Dish Ingredients
½ teaspoon of sea salt
A single red bell pepper (thinly sliced)
1/3 cup of freshly chopped cilantro
6 cups of cabbage, purple and green (shredded)
½ cup of pepitas
½ diced red onion (medium size)
Dressing Ingredients
1 tsp Kosher salt
1 tsp cumin
1 avocado
¼ cup fresh cilantro
1 minced clove garlic
¼ cup lime juice
2 tsp apple cider vinegar
¼ pepitas
½ cup olive oil
Instructions
Craving a tasty Mexican slaw? The secret's in the dressing. Pop garlic, cilantro, avocado, vinegar, lime juice, pepitas, cumin, and salt into your trusty food processor. As it whirs away, pour in the oil for a creamy finish. Gather your salad ingredients in a bowl, and give them a good mix. Next, drizzle over your dressing, giving a gentle toss to ensure an even coat. A pinch of salt to finish, and it's ready to be savored. Enjoy!
2. Skillet Creamy Lemon Garlic Brussels Sprouts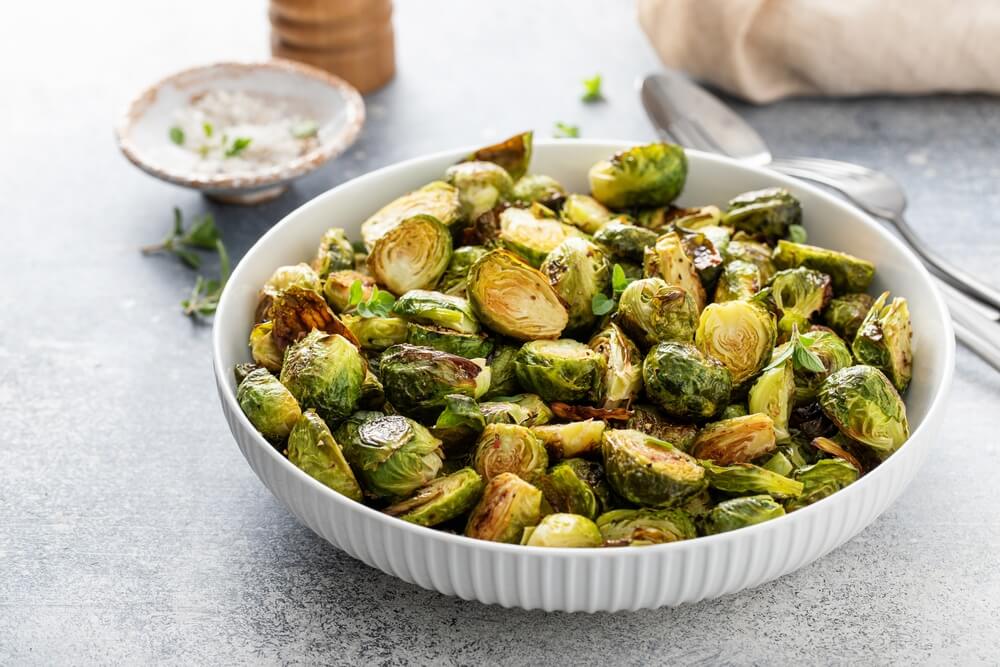 This skillet sensation, creamy lemon garlic Brussels sprouts, tops our gut health recipe charts. Packed with flavorsome nutrients and fiber, your tummy will give a happy sigh. Plus, in just 25 minutes, you're ready to dive into this divine delight.
Ingredients
4 minced garlic cloves
1 tsp lemon juice
2 tsp olive oil
¼ cup freshly chopped basil
1 lb trimmed Brussels sprouts
1/3 raw chopped almonds
1 tsp Dijon mustard
A pinch of pepper and salt
½ canned coconut milk (full fat)
Instructions
Start off by warming up your oven to a toasty 400 °F while getting your ingredients ready. Grab your trusty oven skillet, pour in the oil, and set it over a medium flame before inviting the Brussels sprouts to join. Sauté them for around 4 minutes until they're golden and crispy, followed by a dash of lemon and garlic for a flavor kick.
Once that's done, let your skillet take the heat in the oven and roast for a perfect 10 minutes. In the meantime, whip up the creamy sauce. Into your food processor goes the coconut milk, mustard, and everything else, blending until you've got a velvety smooth concoction. Pour this creamy dream over the roasted Brussels sprouts and give it a good stir, adding a touch of basil and salt to taste. For a finishing touch, scatter some almonds on top and serve it up while it's still warm. Enjoy!
3. Instant Pot Lemon Pepper Salmon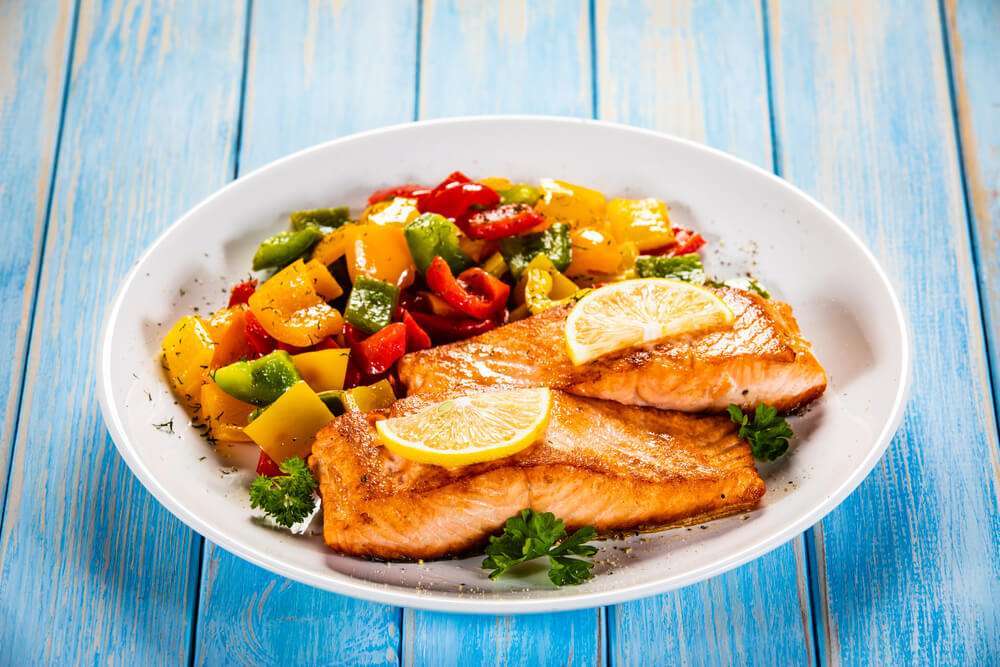 Another brilliant recipe for your gut is the instant pot lemon pepper salmon dish. We recommend using an instant pot because it'll give the fish a moist and tender texture. It'll take you only about 5 minutes to prepare this recipe and 10 minutes to cook it.
Ingredients
2 julienned carrots
½ tsp pepper
A single julienned redhead pepper
¼ tsp salt
1.5 lb of salmon filet (leave the skin on)
1 zucchini
2 tsp healthy fat
½ thinly sliced lemon
A few basil, dill, or parsley sprigs
Instructions
Place herbs in the Instant Pot, pour in water, and situate the steamer rack. Next, adorn the salmon with fat, pepper, salt, and lemon slices, then rest it on the rack and secure the pot. Set a quick 3-minute timer. Once done, gently lift the salmon onto a plate. Toss your chosen vegetables into the pot for a 3-minute sauté. When all is cooked to perfection, serve the salmon crowned with veggies and a sprinkle of herbs.
4. Gut Healthy Armenian Yogurt Drink (Tahn)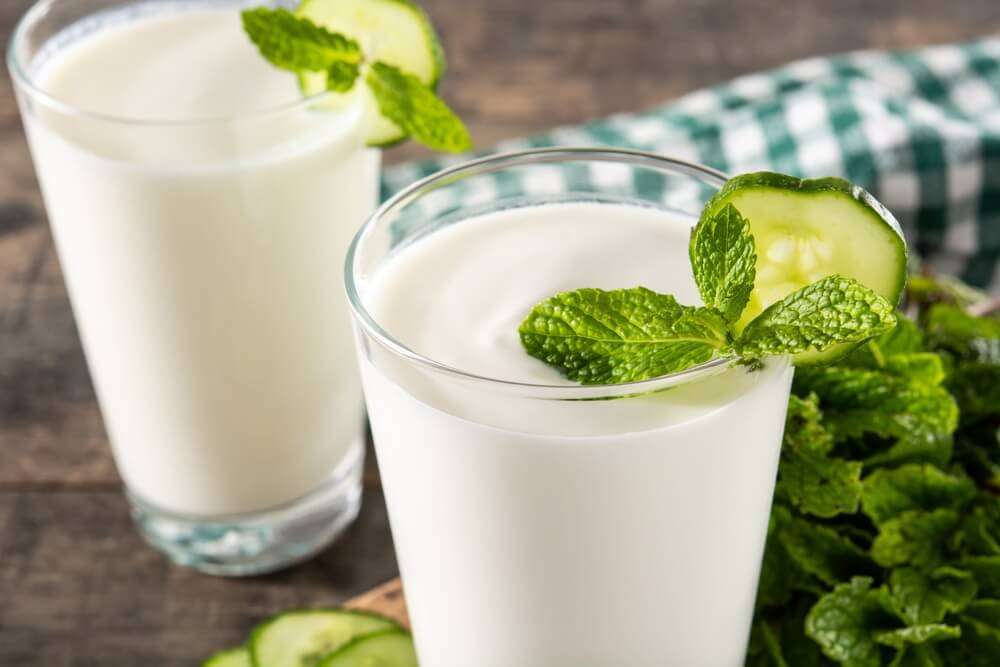 Craving a velvety yogurt treat? This Armenian tahn is your answer. It'll not only satisfy your thirst but also pamper your gut. The beauty of this drink lies in its simplicity – six readily available ingredients and a mere 10 minutes of your time.
Ingredients
2 tsp dried mint
2 cups of water
1 fresh mint sprig
2 cups of Greek yogurt
1 cucumber (chopped)
Instructions
Toss all ingredients into a blender, aiming for a smooth, dreamy blend. Adjust texture to your liking with extra yogurt or water. Once perfected, transfer this delight into your chosen glass, and crown with a fresh mint sprig as the final touch. Savor and enjoy!
5. Easy Vegetable Detox Soup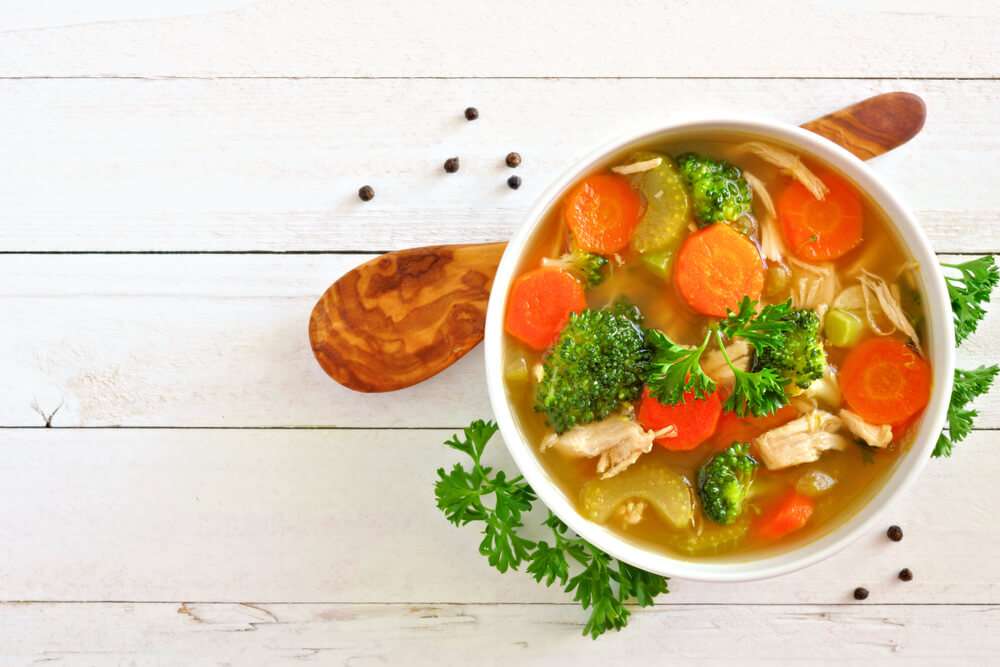 A vegetable detox soup is the most nourishing way to boost immunity and clean your gut. Moreover, this flavorful dish only takes 40 minutes to prepare.
Ingredients
1 cup of chopped carrots
De-stemmed kale
1 tsp of Italian seasoning
2 cups celery (chopped)
1 tsp ginger, peeled and minced
½ red onion
3 cups broccoli florets
2 cloves garlic
½ tsp turmeric
1 can tomatoes
1 cup chopped cabbage (purple)
Instructions
Pour oil into a pot on medium heat. Next, sauté garlic, ginger, and onion for two minutes. Add the veggies into the mix, stirring and cooking them for three minutes. Pour in water and let the medley simmer for a serene 20 minutes. Serve your detox soup garnished with chopped parsley. Enjoy every spoonful!
6. Creamy Cauliflower Turmeric Soup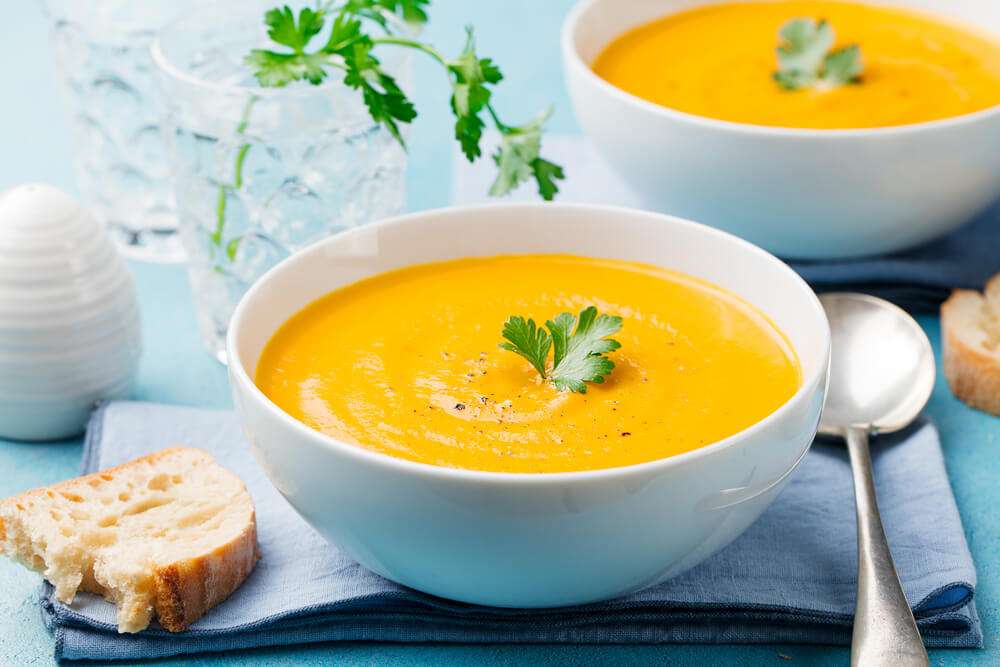 Have you been craving some tantalizing, creamy soup? If so, this creamy cauliflower turmeric soup may just be what your gut needs.
Ingredients
¼ cup olive oil
1 cup of butternut squash
4 cups of bone broth
1 yellow onion
1 ½ tsp cumin
1 cauliflower head
1 tsp turmeric
1 tsp dried rosemary
Olive oil drizzle
Fresh herbs
Salt
Black pepper
Instructions
Preheat your oven to 400 °F as you chop the veggies into tiny bits. Then, place them in a large container, add salt, oil, rosemary, and turmeric, and mix it all using tongs. Once done, roast the veggies on a baking sheet for 30 minutes and flip them for even cooking. Next, add the veggies into a large soup pot, and add in the coconut milk and broth before leaving it to simmer for 25 minutes.
Once you complete these steps, take the soup, put it in a blender, and process it until it becomes smooth and rich. Then, pour the soup into a bowl, add garnishes, salt, and pepper if preferred, then serve and enjoy.
7. Gut-Friendly Chocolate Dipped Strawberry Cubes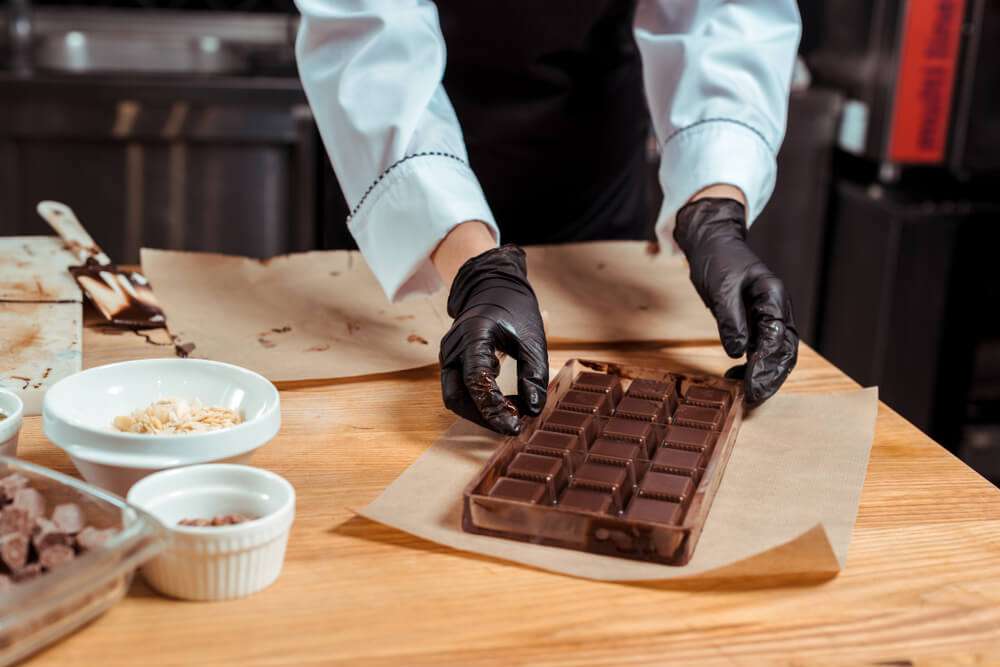 If juice recipes for gut health are starting to bore your taste buds, spice it up with a tasty treat of chocolate-dipped strawberry cubes. This delightful alternative not only satisfies your sweet tooth but is also kind to your gut as it's free from refined sugars, gluten, and dairy.
Ingredients
3 tsp white sesame seeds
¼ cup unsweetened coconut (shredded)
1 tsp coconut oil
1 ½ cups of chocolate chips
¼ cup almonds (finely chopped)
12 strawberries
Instructions
Blend the chips with coconut oil in a bowl, stir, and microwave it for 40 seconds. Grab an ice cube tray, fill each space with the chocolate mixture, and nestle a strawberry in each. Sprinkle almonds, sesame seeds, and coconut over the strawberries, then freeze the tray for five hours. When firm, enjoy your cool, chocolatey delight. Enjoy!
8. Blueberry Cobbler Smoothie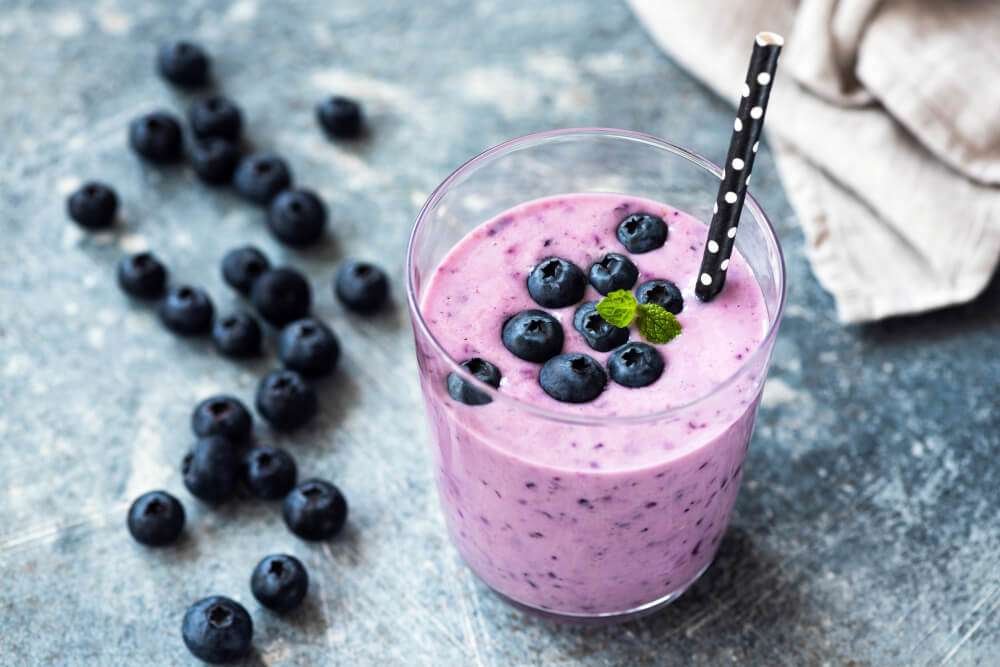 Craving a blueberry smoothie? You're in luck! This blueberry cobbler delight is a top pick on our gut-healthy smoothie list. Packed with ingredients to refresh your gut and repair its lining, this is no ordinary dessert. In just 10 minutes, this luscious smoothie can be yours.
Smoothie Ingredients
¼ tsp cinnamon
½ banana (frozen)
1 tsp vanilla extract
1 tsp almond butter
¾ almond milk
5 ounces Greek yogurt
¼ cup rolled oats
Cobbler Ingredients
2 tsp coconut oil
½ tsp cinnamon
2 tsp oat flour
1 tsp coconut sugar
Combine all cobbler components to create a crumbly delight, then let it rest. Next, whip up all smoothie elements in a blender until velvety. Happy with the texture? Pour your smoothie into a glass, and crown it with your crumble mixture for a flavor kick.
9. Carrot Juice Recipe With Apple and Ginger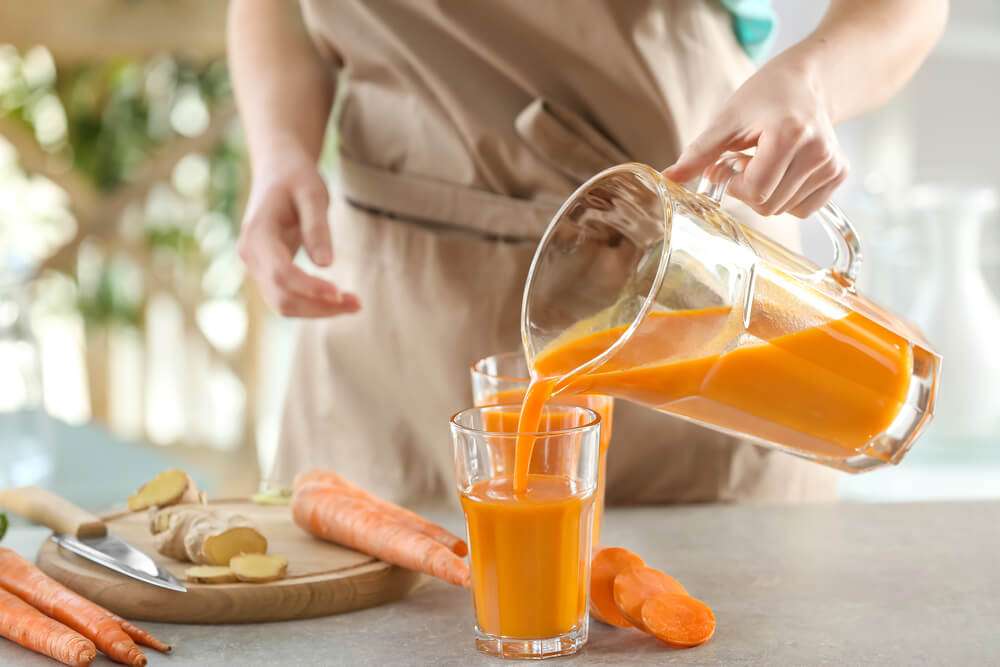 If you want a refreshing juice with a tangy ginger flavor, then this will become your best juice recipe for gut health. It only requires three ingredients and will take only 10 minutes to make.
Ingredients
2 apples, peeled and chopped
1 ginger knob, peeled and roughly chopped
1 bunch of carrots without any greens, peeled and diced
Instructions
Grab your apples, ginger, and carrots and pop them into your blender. Blend until silky smooth, adding a splash of water. Pour out the vibrant juice and savor every refreshing sip. Enjoy!
10. Gut-Healthy Mini Banana Chocolate Chip Buckwheat Muffins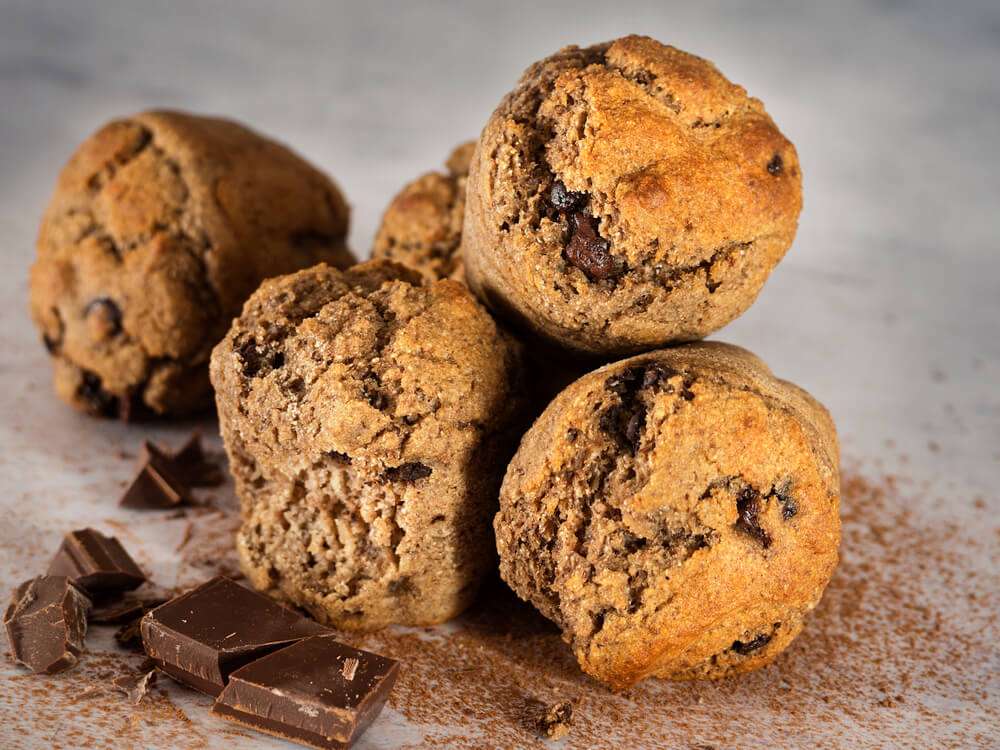 There is nothing more sweet and delicious at the end of a long day than a gut-healthy mini muffin that is both vegan-friendly and gluten-free. To enjoy this mini banana chocolate chip buckwheat muffin at home, check out the recipe below. It'll only take half an hour to prepare.
Ingredients
2 tsp cornstarch or arrowroot starch
1 cup chocolate chips
1/3 cup of sugar (coconut)
2 large ripe bananas
A single tsp ground flaxseed
¼ cup milk (almond)
½ cup flour (oat)
2 tsp extract, preferably vanilla
1 tsp baking powder
1/3 cup avocado oil
1 tsp cinnamon
¾ cup buckwheat flour
1 tsp apple cider vinegar
Instructions
Get started by warming your oven to 375 °F and giving the dry ingredients a good stir in a bowl. In a separate bowl, mush up the bananas, then pour in almond milk, avocado oil, vinegar, and vanilla, whipping up until it's light and airy. Now, unite the ingredients from both bowls and mix thoroughly, adding the chips into the party. Spoon in your batter and let it bake for 20 minutes. Once it's baked to perfection, let it cool off before serving. Time to enjoy your sweet treat!
Superfood Drink for Gut Health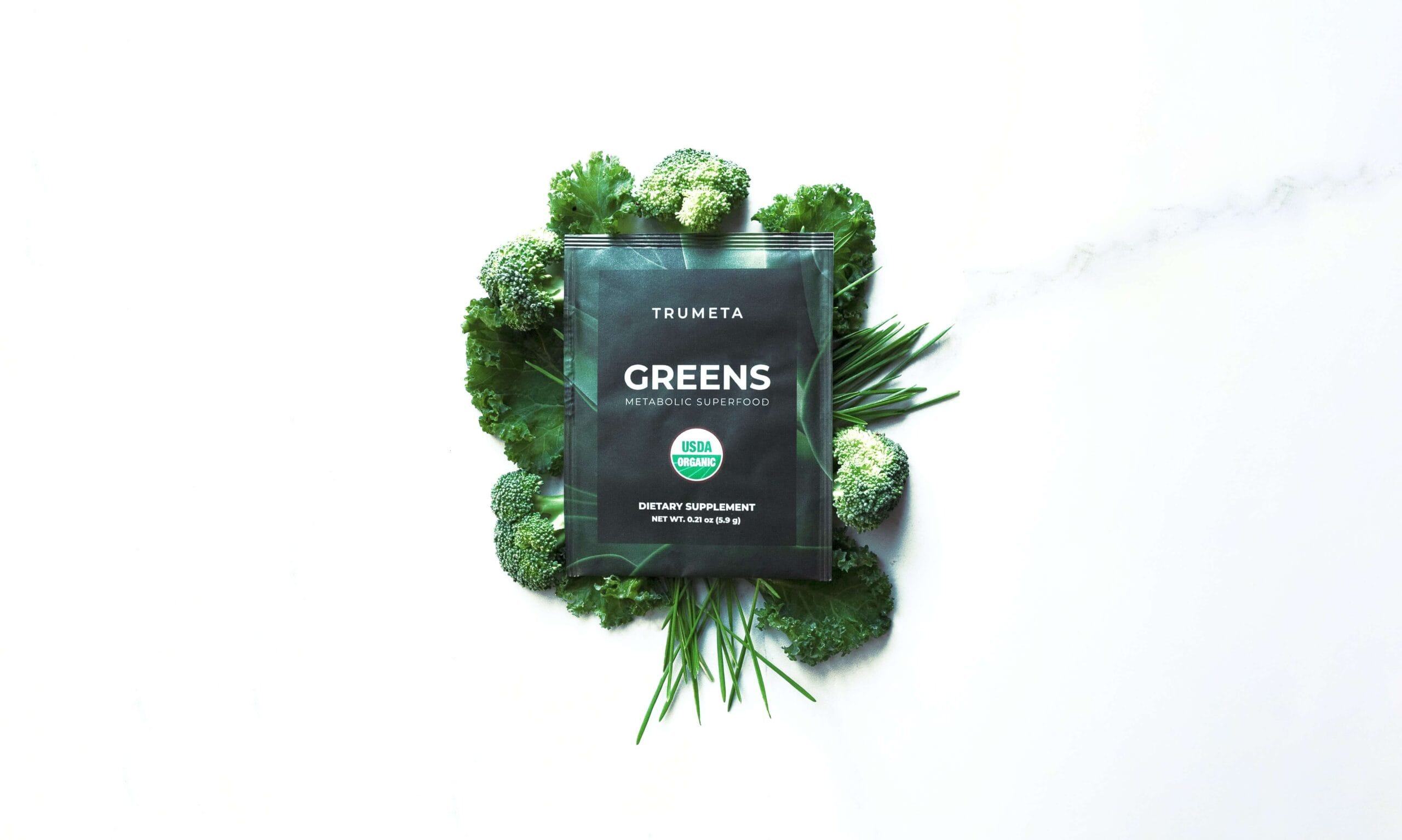 Another effective way to maintain excellent gut health is by taking our Trumeta Metabolic Greens supplement. Our potent and scientifically approved product has helped many individuals achieve outstanding results because it contains the following vitality-boosting organic superfoods:
Organic broccoli: Besides improving your gut health, this healthy ingredient decreases constipation, and strengthens your vision.
Organic wheat grass: It has the ability to detox your liver and boost your metabolism level.
Organic kale: A well-known plant that boosts collagen production, leaving you with firmer, younger-looking skin.
As you can see, our doctor-approved Trumeta Metabolic Greens supplement supports your gut, as well as metabolic vitality, and overall health. You can browse the customer reviews from our clients to see the great results they have experienced after using our product.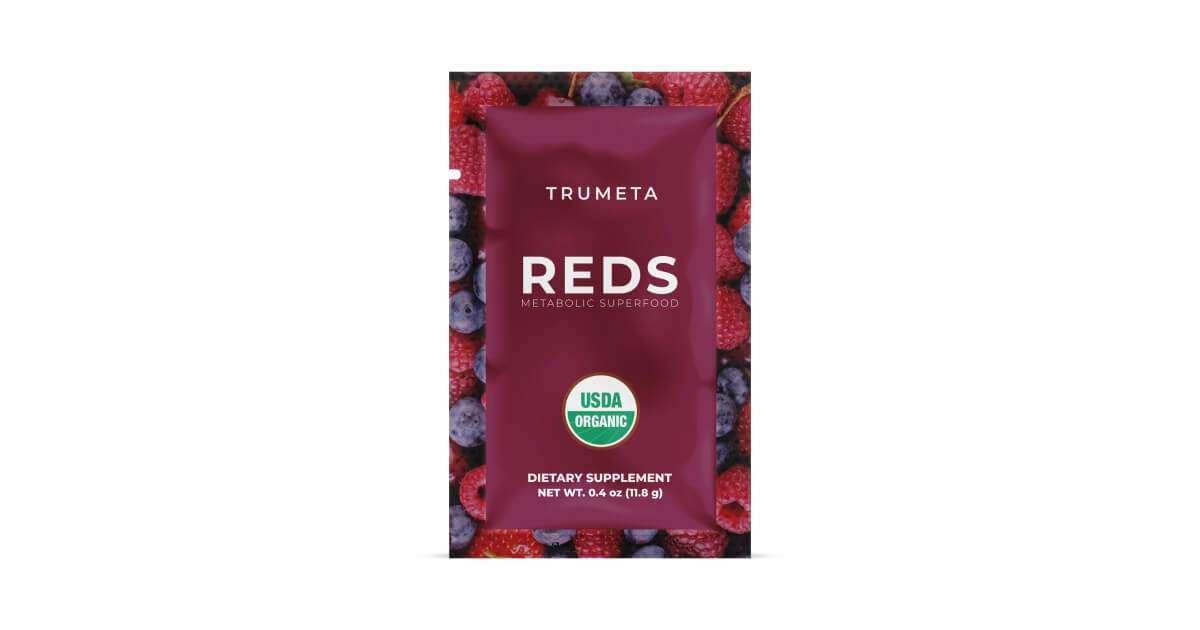 You can also check out our Metabolic Reds supplement, another superb option for your gut health. It will recharge your metabolism, boost your immune health, and even enhance your daily performance. And their convenient travel sachets and bottle are perfect for taking your healthy gut-energizing snack when you're on the go and don't have time to fuss with recipes.
Final Thoughts
Often forgotten, gut health is a star player in our immune system, and nurturing it is key to feeling our best. The gut health recipes shared will be your new best friends for a super healthy gut. You can effortlessly weave these delightful dishes or smoothies from our list into your everyday meals.
Plus, with its potent, rejuvenating ingredients, our Trumeta Metabolic Greens supplement stands ready to help you elevate your gut health, no matter where you are, no matter when. So, while you're taste-testing these recipes, remember to snag your preferred supplement today and witness your gut health flourish.